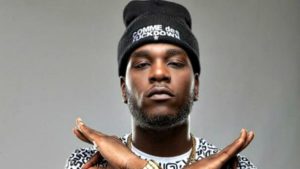 Nigerian dancehall sensation, Damini Ogulu who is popularly known as Burna Boy has taken a shot at President Muhamadu Buhari for his intention to run for president next year.
Burna Boy who revealed that he will not be voting come 2019 elecyions has said that it will be useless supporting the same set of politicians to still run the government at the expense of the youths.
The music star wrote on instagram "Macron was six years old when Buhari was Nigerian head of state in 1983, and now Macron is the Franc president, Buhari is still Nigerian president.
READ ALSO: Burna Boy Biography: Age, Net Worth, Endorsement
"If this doesn't explain it all, I don't know want can.

"I will not be voting (in 2019) and see no reason why me or any Nigerian youth should.

"If you think your votes mean anything or that you can implement change by voting for he same people, you are delusional and you're part of the problem.

"We are hopeless youths who are too scared to fight for our future. Therefore, we unconsciously accept to have no future. Just recycle the past over and over while praying and talking so much.
"They (old leaders) will continue to mess with us unless we tame them."