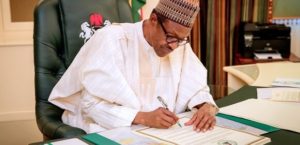 President Muhammadu Buhari has approved the new minimum wage of N30,000 proposed by the tripartite committee on national minimum wage.
The president gave the approval on Tuesday just after the report of the committee was presented to him and with that, a bill is expected to be sent to the National Assembly to effect the change from N18,000 to N30,000.
The federal government had initially proposed N24,000 while state government offered to pay N22,500 to workers but Labour had rejected the offer insisting on N30,000.
The president of the Nigerian Labour Congress (NLC), Mr Ayubba Wabba, told reproters on Monday that the decision to suspend the strike was taken after agreements was reached.
"Having reached this position and agreements signed, the proposed strike action is hereby suspended," he said.