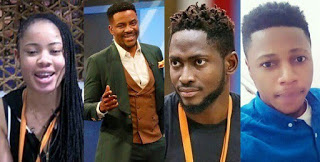 Everything seems to be getting interesting day by day as Nina declared that the show host of the big brother naija, Ebuka Ob-Uchendu, has damaged her relationship withy Miracle and her outside boyfriend, Collins.

Nina is still lamenting over the question asked by Ebuka during last sunday's eviction show.
Ebuka asked her how strong is her relationship with Miracle and if it can still continue outside the show.
Ebuka also wanted to know if she could call Miracle her boyfriend and Nina while giving reply, refused to call Miracle her boyfriend but rather said "He is my best friend, My Everything".
She said her relationship with Miracle now is now serious confusion as a result of Ebuka's question last sunday.
However, during the week, Nina told fellow housemate that Miracle has been angry with her because of her response to Ebuka.
While explaining to Alex, she said:
"I could not call Miracle my boyfriend because I did not want to disrespect Collins. But now I feel bad.

"I would have told Ebuka Miracle was my boyfriend and that I love him.

"I wish Ebuka would ask me same question next Sunday so that I'll correct myself".
Recall that Nina and Miracle had shared kisses, had showers together, cuddled up and so on, Alex futher advises Nina that she should keep her relationship to herself and stop giving poeple what to talk about and also take her time in responding to such questions next time.
"It may be that you have no relationship again outside. And you never can tell if you and Miracle would continue", she added.