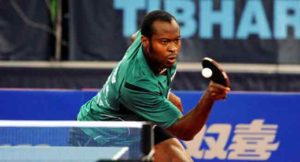 Nigerian tennis player, Aruna Quadri has defeated one of Japanese decorated star, Jun Mitzunai to reach the semi-final round of the ITTF World tour tagged Bulgaria open.
The Bulgaria fans were thrilled to an exciting contest as the Nigerian star knocks off the Japanese player in a seven-game thriller.
However, Marcos Freitas is also through to the last four after the victory over the Chinese Taipei's Chuang Chih-Yuan.
Japanese teenage sensation, Tomokazu Harimoto had also booked his place in the semi-final.
Aruna Quadri will now face China's Zhao Zihao on August 18 while Portugals Marcos Freitas will take on Japanese Tomokazu Harimoto.