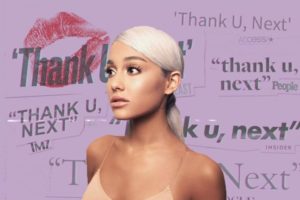 American singer and songwriter, Ariana Grande finally drops her fifth studio album titled "Thank You, Next".
"Thank You, Next" which is a follow up to her previous album "Sweetener" released in 2018, comprises of 12 tracks with production credit to the likes of Scooter Braun, Charles Anderson, Denisia Andrews, Brian Baptiste, Tommy Brown, Brittany Chi Coney, Michael Foster an many others.
Grande had previously released 'Thank You, Next', the lead single of the album on November 3, 2018 and also released '7 Rings' another song off the album on January 18, 2018.
However, one of the tracks off the album "Ghostin" was perceived by fans to be about her longing for Mac Miller while she's with Pete Davidson as signified by one of the verses.
"Though I wish he were here instead. Don't want that living in your head. He just comes to visit me. When I'm dreaming every now and then."
See Track List below:
Imagine
Needy
NASA
Bloodline
Fake Smile
Bad Idea
Make Up
Ghostin
In My Head
7 Rings
Thank You, Next
Break Up With Your Girlfriend, I'm bored