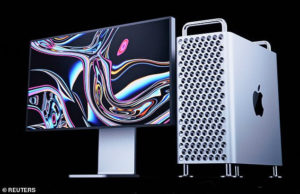 Tech giant, Apple has unveiled an all-new desktop computer for professionals which boast of a powerful graphics card fro faster performance.
It's a completely redesigned Mac Pro with upgraded specs.
It has up to 1.5 terabytes of memory and up to 300watts of power which is just ideal for power users who require heavy lifting from their machines.
The Apple Mac Pro which packs a raft of upgrades is said to start at a price of $6000.
The Mac Pro which has a stainless steel case, is meant to cater for the needs of advanced professionals with its greater portability.