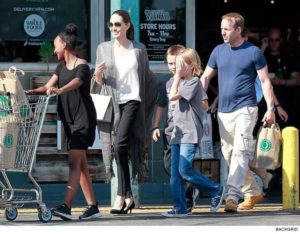 Angelina Jolie has returned to U.S with her kids based on the order of the judge in her divorce case.
Angelina was seen on Sunday shopping in WeHo with her 3 kids at Whole Foods.
Also based on the court docs, she has been ordered to return with the kids on Saturday and the judge's order made it known that Brad Pitt only has a right to custody of the kids for no less than 4 hours everyday on school days and 12 hours everyday on non school days.
It was made known by TMZ that Brad and Pitt are due back in an L.A court this week to settle out their custody issues. The judge is also waiting for a custody evaluation by at least one psychiatrist.
For the meantime the judge indicated he will deal with temporary custody issues while he waits for the report.
Source: TMZ