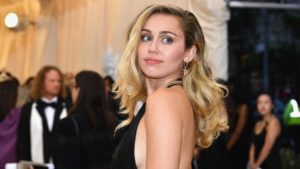 American singer and songwriter, Miley Cyrus has clear the air over the rumors on appearing on the Netflix series "Black Mirror".
When asked if she will be appearing in the Emmy Award-winning series fifth season by Howard Stern on his Sirius show on Wednesday, according to the Hollywood Reporter, Cyrus appeared coy when answering.
"If you guess it, then I will shake my head 'yes,' or 'no,'" she told Stern.
The host also revealed to the audience that the wrecking ball crooner will be on the series.
Netflix has kept mum on the official premiere date of the fifth season but mistakenly tweet earlier this month that "Black Mirror:Bandersnatch" would air on Friday, December 28 of which the tweet was deleted moments later.
The show has starred sevearl A-list celebrities such as Bryce Dallas Howard, Jon Hamm and Daniel Kaluuya.