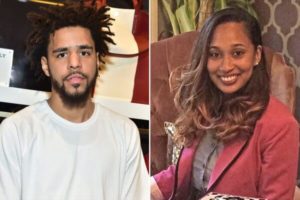 Popular American rapper, J. Cole may have teased his fans about expecting another child with his beautiful wife, Melissa Heholt.
J. Cole made this known in "Sacrifices" which is the closing track of the "Revenge of the Dreamers III" album by Dreamville records.
The rapper also expressed his appreciation for his wife and her decision to stick with him in the lyrics of the song.
He also made mention of his son which he called a gift from Melissa and then stated that they were expecting another child.
He sang:
I had nowhere to go, she gave me a place to stay, she gave me her heart to hold, I still got that shit to this day.
"She ridin' with me on the road, she ridin' with me in the A, huggin' the block, huggin' the block, okay."
"She gave me the gift of my son, and plus we got one on the way,"
"She gave me a family to love, for that, I can never repay, I'm crying while writing these words, the tears, they feel good on my face."
Listen to the song below: