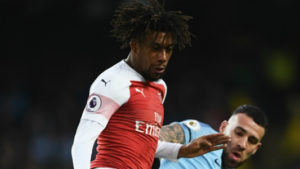 Nigerian and Arsenal player, Alex Iwobi has been named the third best U-25 midfielder in Europe's top five leagues in one key stat.
Although, Iwobi has been criticized in his recent games fir Arsenal most especially against Manchester City on Sunday, a new performance indicator published by Ashwin Raman of Football Whispers suggested that the Super Eagles star had lived up to expectations this season.
According to him, the top midfielder is Diogo Jota of Wovehampton Wanderers followed by RB Leipzig's Marcel Sabitzer and then Iwobi.
However, Tottenham Hotspurs Dele Alli and Manchester City's Bernado Silva are at the top five.