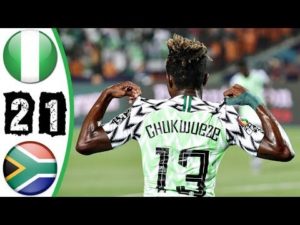 Another test for Nigeria as they worked hard on the pitch to get pass through the AFCON Quarter-finals after defeating the Bafana Bafana of South Africa by 2-0.
The first half had seen the Super Eagles dominated thew midfield with Ndidi and Alex Iwobi creating the chances.
Ahmed Musa was a sensation to watch on the pitch with his pace outshining the South African defense.
Nigerian star player, Samuel Chuwkueze shows off his talent once again with an outstanding display on the field. Excellent ball control, accurate passes, Chukwueze is simply on a top notch.
Chukwueze scored the opening goal for Nigeria at the 27th minute with a powerful shot within the box.
The second half was a different ball game entirely as the Bafana Bafana looks extremely dangerous with their stamina while showing off their determination.
South Africa got an equalizer with an header from Zungu. At first it seems it was an offside but with the help of VAR, the controversial was counted.
However, the match was all leveled up as it seems we were going to get an extra time until the South African defense became disorganized and Ekong use the opportunity to score the winning goal for Nigeria from a corner kick by Moses Simon at the 89th minute.
Nigeria is now in the Semifinals and will have to wait for the winner between Algeria and Cote Ivoire quarterfinal match.
Watch video highlights below: