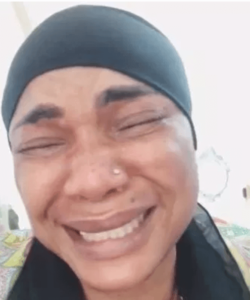 Yesterday was mother's day and the Nollywood actress was quick to remember her past deeds.
While everyone were busy sending messages to their mothers and wives, Nollywood actress, Iyabo Ojo used that opportunity to recount how she had single trained her two children as a single mother.
The beautiful actress shared a video on her Instagram page where she burst into tears while telling her emotional story.
From the actress story, she revealed that she got the shock of her life after her ex-husband said to her, "I only married you because you are pregnant, I don't love You".
She continued to narrate how she had tried to save her marriage and in the process, became pregnant with her daughter, who is her second child with her ex-husband.
However, it became worse as her husband was no longer present at home and she was due to give birth, she could not afford to go to a hospital.
She made it known that she had to appeal to a nurse who lived nearby to assist her to give birth to the child.
After giving birth to her daughter, Priscilla, she lost consciousness as a result of loss of blood.
She went on to recount how she had picked up courage to walk out of the marriage in order to maintain her sanity and focus to take care of her children.
The actress shed tears of joy while expressing how she has been able to take care of her children and other people's children.
She made it known that she has decided to share her story in order to encourage people, most especially mothers that they are capable of doing amazing things and whenever they find themselves doubting how far they can go, they should remember how far they have come.
Watch Video below: