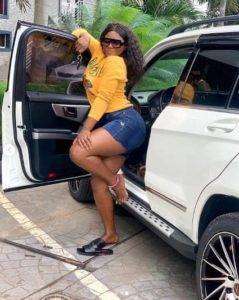 Ever since the endowed nollywood actress, Destiny Etiko got a new Mercedes SUV as a gift on her birthday, there have been several mixed reactions online.
Destiny Etiko had actually received different backlash on her Instagram page with some talking down on the car gift.
However, the Enugu-born actraa has revealed to Sunnewsonline that though she can't afford to buy the car but she has worked hard for it.
Etiko also said that she doesn't care about what people say about the gift and therefore not disclose who it came from.
"I'm still super excited about my birthday. I feel happy knowing fully well that people I didn't expect to show me love showed me so much love, so I'm happy. As for the car gift, well, I work so hard for it. Yes, but then I cannot cough out money to buy such a car; it's not that I can't buy a car for myself.
This particular Mercedes Benz is a gift. I don't care what people say, I won't mention who bought it for me. That's exactly what happened last year when my boy- friend bought me a Venza; people kept saying all sorts of things. People will always talk and I don't care" she said.