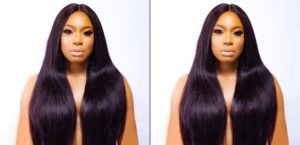 Nollywood actress Chika Ike has shared a semi nude photo of herself on instagram to celebrate her 33rd birthday.
She posted the photo with the caption:
"✨✨CHIKADIBIA✨✨God constantly shows his greatness in my life . God is the greatest . Words alone can't describe how grateful and thankful I am for all that he has done for me …. Happy Birthday to me 🎊🎉🍾🍾"
Chika Ike is a Nigerian actress, producer, entrepreneur and philanthropist known for movies such as Paradise, mirror of Beauty and Anointed Queen.
Chika has a production company which she founded in 2014 and produced her first movie 'Miss Teacher'.
She has a Fashion line 'Fancy Nancy' which she launched iN Abuja in 2011 and she's also the author of a book 'Boss Up' which talks about the challenges of life.