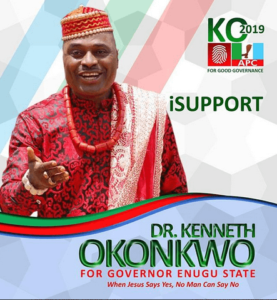 Nollywood actor, Kenneth Okonkwo is aspiring to be the next governor of Enugu state under the platform of All Progressive Congress (APC).
The veteran actor has showed his level of seriousness as he officially unveiled his Enugu governorship election poster ahead of the 2019 polls.
The actor had earlier declared his ambition some few weeks back under the PC platform in Enugu with Sullivan Chime, the immediate past governor of the state, showing his support.
"Without God I can do nothing but with Him I can do all things because He strengthens me. Join the wining team. By the grace of God, I am the next Governor of Enugu State."
Kenneth Okonkwo is a popular nollywood actor, movie producer, director, entrepreneur and politician who is known for his role in the movie "Living in Bondage".