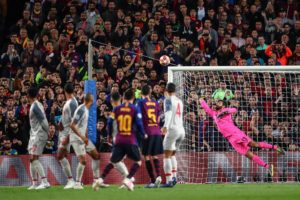 Spanish giant, Barcelona are half way into the Champions league final after thrashing Liverpool 3-0 at Nou Camp.
With three goals recorded at the first leg of the encounter, Barcelona now have an advantage going into the second leg at Anfield next week.
Barca are still on their way to chase the treble, having clinched the La Liga title.
Their match against Liverpool might hav look so easy but the Englsih side sure gave a tough time.
The first goal from Suarez gave Barca the lead but with brace from Lionel Messi including his amazing long way free kick, was enough to seal a victory at the Nou Camp.
Lionel Messi has now set new records with 26 goals in 33 appearances against English clubs.