Bartolo 'Buddy' Valastro Jr. popularly known as Buddy Valastro, is an American celebrity Chef, entrepreneur and reality television personality born on March 3, 1977.
Valastro is well known for his appearance on TLC series Cake Boss. He is the owner of Carlo's Bakery and also the face of Buddy V's Ristorant.
He is 5 feet 7 inches in height and weight 62kg but there is more to know about him from his family, wife, home town to his net worth.
Early Life & Background
Valastro who is of Italian heritage, was born in Hoboken, New Jersey to Buddy Valastro Sr. and Mary W. Tubito.. His mother was born in Altamura, Italy and his father was born in Lipari, Italy.
Valastro grew up with his four sisters; Mary Sciarrone, Maddalena Castano, Lisa Gonzalez and Grace Faugno, in Urban Hoboken and Little Ferry, New Jersey.
Career
Valastro started to work at the family business, Carlo's Bakery at age 11 with his father. His father passed away in 1994 when Valastro was barely 17 years old of which he later succeeded his father as the new Cake Boss.
Valastro appeared on the television series Food Network Challenge as its guest mentor in 2007 and also became the host of the cooking television show Cake Boss in 2009.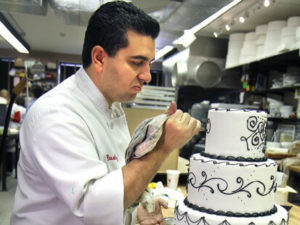 He also became the host of the cooking show Next Great Baker and Kitchen Boss after which he became the host of several shows including Buddy's Bakery Rescue, Batalha dos Cozinheiros, Buddy's family vacation and so on.
He also launched an event planning and catering company, Buddy Vs Event in 2014. The company focuses in catering everything from corporate events to family gathering.
Personal Life
Valastro got married to his wife, Lisa on October 14, 2001 and their union is blessed with four children.
Net worth
Buddy Valastro is one of the most influential American celebrity chef with an estimated net worth of $10 million. Most of his earnings are from his baking business and television appearances. He makes $80,000 for each episode of "Cake Boss".
Social Media Profile
Instagram – @buddyvalastro
Twitter – @CakeBosBuddy