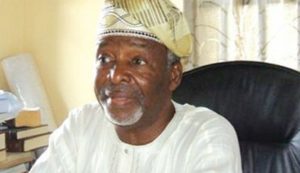 Oodua Peoples Congress (OPC) leader, Mr Federick Fasehun had died aged 83yrs.
Mr Fasehun had passed away at the early hours of Saturday at the Lagos State Teaching Hospital (LASUTH).
Fasehun's death was disclosed to the News Agency of Nigeria by his spokesperson, Mr Adeoye Jolaosho.
Baba took ill on Wednesday and was rushed to the intensive care unit of LASUTH.

"He died early hours of today. We are all devastated," he said.
Mr Fasehun was born on Spetember 25, 1938 in Ondo state.
He attended St Mattews Roman Catholic School, Ondo for his primary education and moved to St Peter's Teacher's Training College for his secondary education before he was expelled from school because of his non-conformity with Catholicism He later completed his secondary education at Ondo Boys High School.
Fasehun got a scholarship to study Science at Blackburn College in the UK and furthered his education at Aberdeen College of Medicine. He also studied at Liverpool Postgraduate School after which he had a fellowship at the Royal College of Surgeons.
Fasehun studied acupuncture in 1976 in China under a joint World Health Organization (WHO) and United Nations Development Scholarship Program.
He returned in 1977 and set up an Acupuncture unit at the Lagos State Teaching Hospital (LUTH).
Fedreick Fsehun was also an active member of National Democratic Coalition.