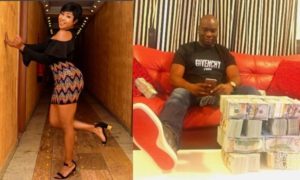 Nollywood actress, Charity Nnaji has reacted to being called an online beggar by a Dubai based Nigerian millionaire, Mompha.
In a chat between the two, Charity had asked Mompha for money of which he refused to give to her and resulted into the actress calling him a 'Stingy goat' and of course he replied back by calling her an 'online beggar'.
Mompha who shared a screen shot of their chat said that some people are "born online beggars".
However, Charity reacted to this on Instagram after turning off comment section of her page saying:
'I can never go offline because of this rubbish, and this cannot change my passion either."
See their exchange below: