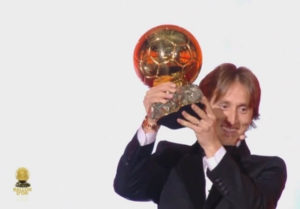 Croatia and Real Madrid play maker, Luka Modric has clinched the 2018 men's Ballon d'Or award beating the five time-winner Cristiano Ronaldo and World cup winner Antoinne Griezmann.
Modric has been able to beat Ronaldo-Messi duopoly after showing an impressive performance.
He played a crucial role in Read Madrid's third successful Champions league triumph after beating Liverpool in the final 3-1, and was also able to help Croatia to the world cup final in Russia which earned him a Golden Ball.