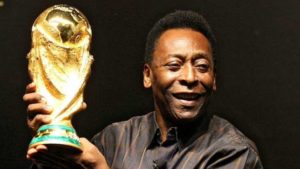 Brazilain football legend, Pele has come out on Lionel Messi's claim as the greatest footballer of all time.
Pele states that the Barcelona star, Lionel Messi has only one skill and cannot be considered the greatest football of all time.
Messi, 31, is regarded by many as the best of this generation alongside Juventus star, Cristiano Ronaldo.
Meanwhile, there has been much debate about who the best player is in the history of the game with players from different generations.
Now, the Brazilian had sparked outrage among football supporters with a damning assessment of Messi stating that his qualities do not entitle him to be the greatest player in history.
However, in an interview with Folha de Sao Paulo, Pele had stated that Messi's height and left foot have disadvantages which make him unstable as a model footballer.
Despite Messi dominating world football for the past years, Pele is certainly of the opinion that he is limited when compared to him.
Here is what he said below:
"How can you make a comparison between a guy who heads the ball well, shoots with the left, shoots with the right and another who only shoots with one leg, only has one skill and doesn't head the ball well?"

How can you compare? To compare with Pele, it has to be someone who shoots well with the left, shoots well with the right, and scores headers."

Pele also added that Messi is not even comparable to Argentine legend, Diego Maradona who is also said to be one of the best player in the game.

"As far as I'm concerned, Maradona was one of the best players ever. If you ask me, 'Was he better than Messi?' Yes, he was. Much better.

"[Franz] Beckenbauer, [Johan] Cruyff were also excellent players."