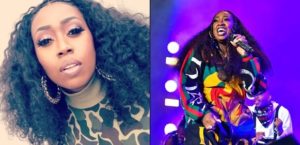 American rapper singer and record producer, Melissa Arnette Elliot popularly known as Missy Elliot has been announced as one of the nominees of the 2019 Songwriters Hall of Fame.
Missy will become the third rapper to receive the prestigious award after Jay Z (2017) and Jermaine Dupri (2018) if she eventually win.
The hip hop icon who has been known for smash hit singles such as 'Get Ur freak on' and 'Work it', has also written for the likes of Beyonce, Mary J. Blige, Fantasia, Janet Jackson, Whitney Houston, Jasmine Sullivan and many others.
Also joining the rapper as performing nominees are Mariah Carey, Chrissie Hynde, Vince Gill, Mike Love, Jimmy Cliff, Jeff Lynne, Cat Stevens, John Prine and so on.
However, six songwriters will be officially inducted at the 50th annual Induction & Awards Gala in New York come June 13, 2019.
Missy Elliot took to twitter where she reacted to the news. Her tweet reads:
"i am Humbly Grateful to be nominated with so many other AMAZING writers," she tweeted. "Congratulations to all of them also."