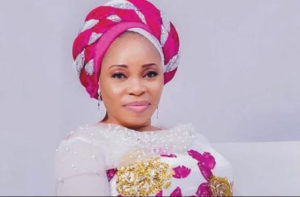 Nigerian gospel singer, Tope Alabi has really been a sensation on the internet for her worship song "Logan To Ode" which featured songwriter and celebrity photographer, TY Bello.
With hundreds of thousands of views on the music video of the song across the social media platform most especially on YouTube, Tope Alabi has been talk of the internet.
Music lovers and her fans alike have been showing their appreciation with comments on how the song had been a source of inspiration to them.
However, in an interview with Saturday Beats, the gospel sensation had revealed that despite all the fame, she has tried not to restrict herself from living a real life.
"I still go to the market to buy groceries; I don't like the idea of living the life of a celebrity. Sometimes when I want to go out, I take public transport. There was a day I boarded the BRT bus in Lagos to get to the popular Balogun market; I could hear the passengers whispering to one another.

"They were arguing if I was the one or not. They were saying Tope Alabi is not a poor person so there is no way she will be on a public bus. When I was about to alight from the bus, I revealed my identity to the driver, and this made many of the passengers to also get down from the bus to take pictures with me.

"Sometimes, it is necessary to have a taste of what it feels like to be an ordinary woman on the street. Many celebrities do not live their real life and are not free to do whatever they like; that is why I don't restrict myself. When someone is not free to do what they feel like doing, like every other person on the street, it causes depression which can even lead to death.

"Some people try to sell fabric worth N20,000 to me at the rate of N100,000 because I am a celebrity; they don't bother to find out if I have that kind of money or not. Living a fake life can lead to indebtedness as some celebrities always want to meet up to a certain standard," she said.
Tope Alabi who hails from Yewa, Imeko in Ogun state, rose to fame with her song "Ore ti o common".
She studied Mass Communication a Polytechnic in Ibadan and had worked at the Nigerian Television Authority (NTA) as a correspondent.
She is also known for composing over 350 soundtracks for yoruba movies and had released numerous gospel songs such as Iwe Eri, Angeli Mi, Agbara re ni, Alagbara, Omo Jesu and so on. Read Tope Alabi Biography here