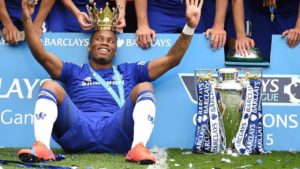 Ivorian football legend, Didier Drogba has revealed that he has retired from professional football at the age of 40.
Drogba confirms to BBC where he officially confirmed his retirement. Making a move to Phoenix Rising 18 months ago, has made him the first footballer to play in a club he owns.
Playing the two roles as actually exposed him to football management which he is going to be taking his time now that he's retired.
However, Drogba has made it clear that it was more about giving young footballers a chance.
"It's the best way to end, helping some young talent to develop. To give something back to the game was the best way to finish as I have learned so much in the game."

You broke our hearts once but we still want to congratulate you on a superb career. All the best for the future. @didierdrogba #FCBayern #MiaSanMia pic.twitter.com/xEhNAs5aeI
— FC Bayern English (@FCBayernEN) November 22, 2018