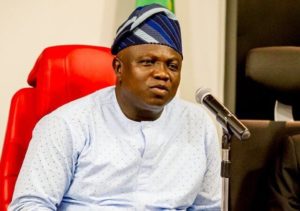 National leader of the All Progressive Congress (APC), Bola Ahmed Tinubu is currently in a dilemma over the fate of Governor Akinwunmi Ambode who is seeking a second term in office as Governor of Lagos state.
While sources have disclosed Tinubu has forgiven Ambode, there is still more as the most influential group in the state are insisting that they have had enough of the governor.
It was also said that Tinubu met comrade Adams Oshiomole, national chairman of the APC in Abuja on thursday over the fate of the embattled governor.
It was reported that Oshiomole had appealed to Tinubu to consider the negative impact the political crisis in Lagos state will have on the fortunes of the party in the forthcoming general election, while saying that it will be disaster if APC loses Lagos to the opposition.
"Oshiomhole told Tinubu to forgive Ambode of whatever offence he may have committed. He said the timing is wrong given the fact that the general elections is just few months away".

" However in his response, Tinubu pointedly told Oshiomhole that while he has forgiven the governor, his loyalists and party elders are insisting that there is no going back on their resolution not to renew Ambode's mandate".

" Tinubu said without the party leaders in Lagos, he himself is nothing and therefore he cannot afford to go against their wishes".