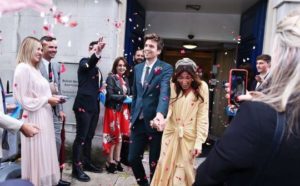 Radio 1 DJ Greg James gets married to his sweet heart Bella Mackie months after announcing their engagement.
Greg made the announcement on instagram with series of snaps from their big day where he had captioned it:
'Bella and I got married and it was the most incredible day of my life. 'I think it was up there for her too. She is the best thing ever and I feel like I might actually burst with happiness.'
In the photos he shared, he was seen looking so dapper in a navy suit while he continues to smile at his bride.
Bella also rocked a champagne colored gown with a headpiece.
And just in time, fans were quick to share their best wishes to the happy couple.
'So happy for you!! Bella you look SO beautiful and Greg you scrub up well! I wish you many years of Peace and Love. Go well,' one commented. 'Delighted for you both. I wish you long life and great happiness together,' another posted. 'If you are blessed with children, I wish you even greater happiness.'