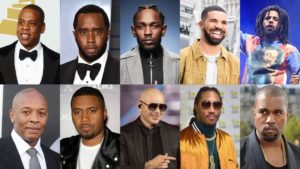 American rapper Jay-Z has topped the list of the highest paid Hip hop acts in 2018 according to Forbes.
Jay-Z is at No.1 with a sum of $76.5 million while 'Diddy' combs is at No.2 with $64 million.
Kendrick Lamar who has endorsement deals with Nike and American express sold out date on the TDE sits at No.3 with an impressive $58 million.
Drake is at No. 4 with $47 million, J. Cole at No. 5 with $35.5 million while Dr Dre and Nas are tied at No. 6 with $35.5 million.
DJ Khaled at No. 11 with $27 million, Travis Scott at No. 15 with $21 million, Lil Uzi Vert at No. 17 with $19.5 million and Logic at N. 19 with $17 million.
However, Russ, Swizz Beatz are tied at No. 20 with $15 million.