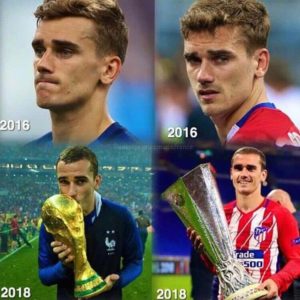 French international star, Antoine Griezmann beleives he's one of the best three players in the world in 2018 and therefore deserves deserves a place in the FIFA Best Men player award.
While Cristiano Ronaldo, Luka Modric and Mohammed Salah are the last men standing for the award, Griezmann is displeased after enjoying the highlight of his career with France winning the world cup.
Griezmann now believes he deserves some accolades for his outstanding performance having scored 23 times for Athletico Madrid in 33 appearances and also helping them to the Europa League and European super cup.
"I deserve to be in the top three. In 2016, when I finished third behind Cristiano Ronaldo and Lionel Messi, I played in the final of European Championship with France and Champions League final with Atletico Madrid. This year I won three, " Griezmann told L' Equipe.