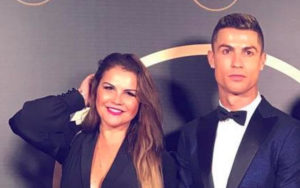 Cristiano Robaldo's sister, Katia Aveiro took to instagram to post her brtoher's pictures alongside some fiery captions.
Cristiano Ronaldo's sister became so furious after her brother was sent off in Juventus Champions league win over Valencia.
She took to her instagram page to post some fiery captions "Shame on football, Justice will be done. Want to destroy my brother. Shameful".
Ronaldo's champions league debut with Juventus was made a bad night mare after the Portuguese was shown a straight red card juts at the 29th minute of the match.
At first, it wasn't clear what had happened as Ronaldo made contact with Jeison Murillo which was away from the eyes of the referee.
However, replays shows that there is slight contact between the two but Ronaldo didn't appear to lash out at his rival with his hand or head.
The official gestured to the referee to end Ronaldo's play on the field of play as he was sent off immediately and made to leave the pitch in tears.