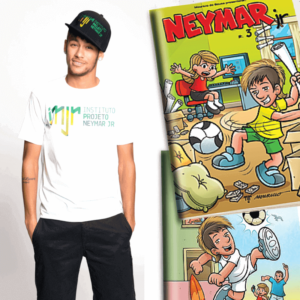 Brazil and PSG forward, Neymar has moved into the world of comic books.
Neymar announced the launch of the first issue of "Inked: Art Animates Life" on social media this week, proudly posing with the cover art of his new graphic novel stories.
The comic isn't written by Neymar but as long as a lifelong fan f graphic novels, the Brazilian is more than happy to see his likeness being used.
Dream come true ! 🦁
Get the first issue of Inked at https://t.co/dvdnq0kdR7 pic.twitter.com/Wj4DAltR2Q

— Neymar Jr (@neymarjr) September 12, 2018
"Like many kids, I had two dreams growing up, to be a professional footballer and a superhero. I've been blessed enough to play football at the highest level," Neymar told Business Wire.

"Now I have the chance to bring new, modern, powerful storytelling through comics and graphic novels to fans around the world."