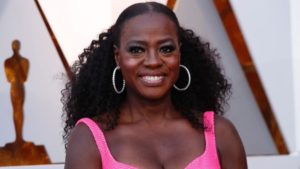 American actress and producer, Viola Davis has admitted that she regrets her role as maid Aibileen Clark in the 2011 movie "The Help".
Even though she got a nomination for Best actress Oscar for the role, she revealed that she doesn't necessarily like that the movie didn't tell enough of the maid's stories.
Have I ever done roles that I've regretted? I have, and The Help is on that list," she told the outlet at the Toronto Film Festival this week, revealing that she felt the production should have touched more on how the maid's, who served wealthy white families, really felt about their lives.

"I just felt that at the end of the day that it wasn't the voices of the maids that were heard," Davis explained of why she has some regrets the role in the production, which was set in Mississippi in 1963.

"I know Aibileen. I know Minny. They're my grandma. They're my mom," she then continued while speaking out on September 11.

"And I know that if you do a movie where the whole premise is, I want to know what it feels like to work for white people and to bring up children in 1963, I want to hear how you really feel about it. I never heard that in the course of the movie."
Although she seems not like the role,she has made it known that she still looks back at the experience of playing Aibileen Clark and has no bad blood wit the people she worked with.
Viola also revealed she had an amazing time with her fellow actors such as Emma Stone, Octavia Spencer, Jessica Chastain and Bryce Dallas Howard, while adding that they will all be friends for life.
The friendships that I formed are ones that I'm going to have for the rest of my life," she said of the close relationship she formed with her co-stars, who she referred to in the interview as being "extraordinary human beings".