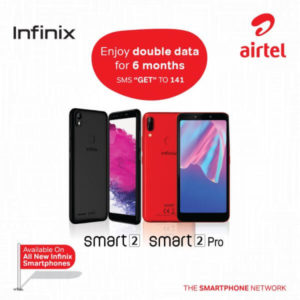 Airtel Nigeria has announced a strategic partnership with Manufacturers of Infinix, Tecno and itel smartphones brand that will enable telecoms consumers enjoy enjoy exclusive double data offer for a six month period.
The new partnership allows for consumers who purchase a new infinix, Tecno or itel smartphone will enjoy twice the value of any data plan they purchase on their newly acquired smartphones.
For example, if a customer buys the one thousand naira monthly data plan on any of the smartphones mentioned above, he or she gets 3GB instead of 1.5GB data.
However, to enjoy the offer which is available to both new and existing customers,, you are required to send the keyword 'GET' to sms shortcode 141. After sending the sms, a confirmation message to sent to the customer for the double data six months offer.
After the six months period, customers can then subscribe to their desired data plans and enjoy the double data benefit. The bonus and regular data have same validity.
According to the chief commercial officer, Airtel Nigeria, Dinesh Balsingh, the new partnership will help deepen data penetration in line with Airtel's positioning as the mobile internet operator of first choice for telecoms consumers in Nigeria.
"This partnership will empower more Nigerians to fulfill their personal and professional endeavors and also help connect more telecoms consumers to their dreams. Airtel is committed to delivering innovative and affordable mobile Internet value propositions that will make life richer, better and more meaningful for Nigerians," he said.