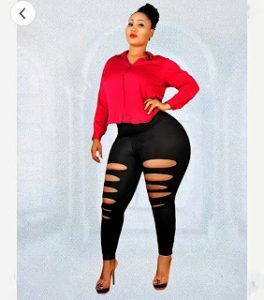 Curvy nollywood actress, Angel Christopher is not letting her guide down despite all the mouth watering offers she's been getting from men who can's resist her.
The Delta based actress who has starred in over 20 nollywood movies has shared all the embarrassing moment she encounters as a result of her natural endowments.
"Nothing is new. People normally assume so many things about me. Some men just see me, and the next thing they do is ask me to marry them, without even knowing me. Others go as far as telling me that they would love to have sex with me. Just like that!

Some even ask if I am human being or mammy water, while others send me different snapshots of their manhood to prove they are capable and can handle me well in bed.

I just read and laugh and when I am not in the mood to laugh, I block them through their social media handles. Case closed! In fact, men find my body irresistible," she gushed.
However, Christopher who definitely believes she would get a man of her dreams one day, has rejected the offer of being a second wife.
Nothing is wrong with being a second wife, but I can't settle for less neither am I meant to eat left over. The Bible made us to understand that it's one man, one wife. So, why should I go dragging another woman's husband when I can get mine?

I am a jealous lover and I hate sharing. I want a man who is God fearing, understanding, tolerating, caring, calm and playful.

I don't mind if he is short, ugly or poor, because when you truly love someone, his or her looks won't mean a thing to you," she hinted