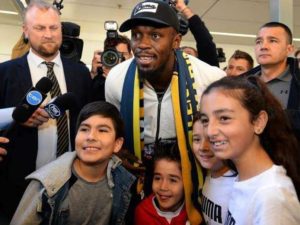 Usain Bolt has shown the world how serious he is to be a professional footballer as he arrives Australia ahead of trial with an A-league club.
The athlete has been given an opportunity by the Central coast mariners to prove his worth as they agreed to let him train with the team indefinitely in pursuit of his playing contract.
Bolt revealed to media at the sydney airport that he would make his presence count even as the club hopes to turn him into an A-league material for the start of 2018/19 season in late October.
"I always put my best foot forward and I'm going to show the world what I'm made of," he said.
When asked if this was a stunt, the 31 year old simply replied "This is real".
"I've said since my last season of track and field that I want to play football and I know what I can do.

"I'm grateful to the Mariners for giving me the opportunity and am happy to call Australia home for now."
Ever since Bolt retired from Athletics last year, he has tried many teams in Germany, Norway and South Africa with no success