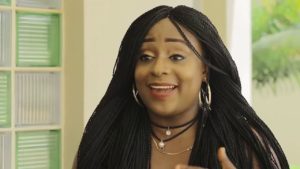 Uche Nancy is a famous Nigerian costumier and movie producerfrom Ufuma, Anambra state.
She has a daughter, Chinenye Nnebe who is also a teenage actress having followed the footsteps of her mother. She joined the nollywood movie industry and starred in movies like; Proof of life, The seed, Gallant Babes, Fulton Mansion and so on.
Uche has been in the industry for over 10 years while starting out as a costumier before delving into production.
As a costumier, she worked on World Apart and Girls Cot and haqs won numerous awards for her effort.
Uche Nancy has also produced over 20 movies including; Fuiton mansion, The Lamb, Best of enemies, Dirty diamond, Not my queen, The Models, Hot kingdom, Deep water and son. She has also worked alongside top actors in the country such as Mercy Johnson, Angela Okorie, Oma Nnadi, Lawrence Onuzulike and the late Muna Obiekwe.
She had revealed that she became a producer so as to give female actors an opportunity to show case their talent in the industry without the harrassment of men who always wants to sleep with girls.
Uche married at an early age of 16 with 3 kids.
Uche has won numerous awards including: AMAA awards and Creative designer Guild award.
Instagram @uchenancy