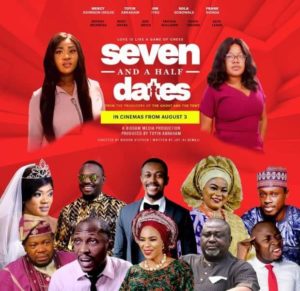 "Seven and a half dates" is a must watch movie for every parents and possibly ask themselves if their daughter or son's happiness is worth the sacrifice.
The very passionate and true life story, Seven and a half dates gives a clear cut imagery of the parent dynamics in finding true love in a country like Nigeria.
Unlike other nollywood romantic movies that focus their attention on the stpries main character and love interest, Seven and a half dates talks about the roles parents play in the life of their children when they make critical decisions.
The movie which is produced by Toyin Abraham, written by Joy Isi Bewaji and directed by Biodun Stephens, summarizes the pressure faced by single ladies of marriagable age and the horrors of domestic violence.
Mercy Johnson who played the role of Bisola Gomez, is a hardworking lady who gets verbally tortured by her mother (Sola Sobowale) for being single while her younger sister, Mabel (BayRay McNwizu) is engaged.
So in order to save her from the constant disturbance from her mother, she was rescued by her father, Mr Gomez (Akin Lewis) who sets her up with 10 blind dates gotten from the sons of his friends.
In between her dates, on the seventh date, she meets J Lawal, a role played by Jim  Iyke who quickly picks interest in her dating spree.
The movie becomes interesting as Bisola tries to figure out how to get a date while Mabel suffers domestic violence at the hands of her husband to be, Bode.
Although the parents know about Bode's violent streak, but feel the man would change before the wedding day, so they encourage their daughter to endure.
All together, the acting is top notch as the whole cast gave an exceptional interpretation of their roles including Sola Sobowale who will have you glued to the screen for the whole 1 hour 5o minutes.
Credit: Bounce