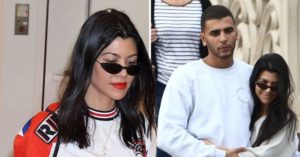 Kourtney Kardashian allegedly called it quit with her boyfriend Younes Bendjima after he cheated on her few months ago.
Koutney is said to have split from her boyfriend after almost two years and sources closed to the 39 yr old have said that the duo broke up one month ago just after their trip to Italy.
The duo called it quit when 25 yr old Younes went off on another holiday where he allegedly cheated just days after.
Kourtney and her now ex, began dating in 2016 when she met the Givenchy and Balmain model during Paris fashion week.