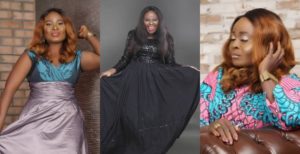 Popular Nigerian veteran singer, Essesnsce who recently turned 40, has revealed in an interview with Sunday Scoop that she's still ready for marriage.
During the interview, the singe said there is no need to rush into marriage and there is time and season for everything.
She said this is why most people are geting married for the wrong reasons and their marriages crash.
Read below:
"A lot of people are getting married for the wrong reasons and that is why many marriages crash these days and people commit murder.

"I believe that staying single for this long is for a purpose. There is no timetable for anybody.

"Some people may say that for me to be unmarried at this age means I've done something wrong but I believe that I am doing something right.

"There is a time and season for everything and I'm waiting for my time."
On the notion that she's older than 40, here's what she said:
It's not everybody who was born at the same time with me that are still here; I know of some that are no more.

"I am happy and I feel empowered, knowing that I can be more and do more.

"Some people are even saying that I am over 40. I have people who went to school with me and I cannot lie.

"I was born in Army Hospital, Yaba, in 1978. I'm too old to change. I've never been the flashy type and I'm still that way. My old friends are still my friends."

Speaking on her current projects, the singer said, "I will be releasing my gospel album later this month. I have been working hard on it. I am retracing my roots to gospel.

"When you get to this age, you no longer worry about what people say; you do what you truly want. Music, for me, is about spreading the gospel of Jesus Christ and that is where I started from.

"My songs have always been inspirational with salient messages. I'm just going to be doing more of gospel-based music. I featured only Onus in the forthcoming album and Sammie Okposo produced a song on it as well.

"I was quiet for four years and it was deliberate. I think it is important to take time to re-evaluate yourself at certain times. I have been going through a reprogramming and the end just coincided with when I turned 40."