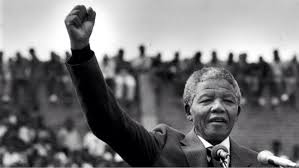 Former US president, Brack Obama delivered the Nelson Mandela annual lecture on tuesday.
Obama adressed thousands of people including Bill Gates and South African leaders in Johannesburg, South Africa.
He described the late Mandela as an inspiration to young people in the late 70s.
"Madiba's light shone so brightly that in the late seventies he could inspire a young college student on the other side of the world to re-examine my own priorities – to reconsider the small role that I might play in bending the arc towards justice," remarked Mr Obama.
"And now an entire generation has now grown up in a world that by most measures has gotten steadily freer, healthier, wealthier, less violent and more tolerant during the course of their lifetimes. It should make us hopeful."
While delivering his speech. Obama tracked the enormous social and democratic progress the world has recorded in the 100 years between Mandela's 1918 birth and 2018.
July 18th marked the 100th birthday of late Nelson Mandela and orgnaisations and individuals across the globe have one or two things to say on the impact of the anti-apartheid revolutionary.
READ ALSO: Nelson Mandela Biography: Wikipedia & Facts About Him
Here's what Bill Gates wrote on his twitter page:
"Nelson Mandela was tireless in his pursuit of equality and justice for all. As we celebrate #Mandela100, let's resolve to do everything we can to create the world he dreamed of."
Here's UNICEF tweet:
"We owe our children, the most vulnerable citizens in our society, a life free of violence and fear." Nelson Mandela.

On #MandelaDay, we honour @NelsonMandela's life and work that continues to inspire our world.#Mandela100 pic.twitter.com/tnEctTj0WA

— UNICEF (@UNICEF) July 18, 2018