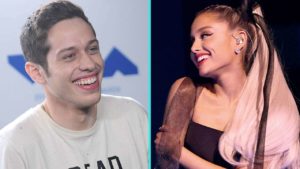 The Saturday Night Live star, Pete Davidson has shared one his most prized possession with his fiancee, Ariana Grande.
He revealed on instagram on friday that he had gifted Ariana Grande his necklace featuring a gold pendant of his late father's FDNY badge.
His father, Scott Davidson who was a new york fighter had died while trying to rescue victims of the 9/11 terrorist attacks at the world trade center. His badge number, 8418, is displayed front and cnter on the necklace.
Pete Davidson who shared picture of Ariana wearing the precious gift was also quick to defend his actions.
"No girl should ever wear your dad's chain. So disrespectful," one follower wrote.
"For ur information that's not just some girl, that's my fiancé," Davidson responded. "She's the greatest person I know. I gave it to her because she has my heart and that is the most precious thing I own. My dad would be so happy and love her so much."
Mean while, Grande also gave a comment on the pic where she wrote "I love you more than anything".
Pete had made is love to Grande official when he debuted tattoos in early june, weeks after they started dating