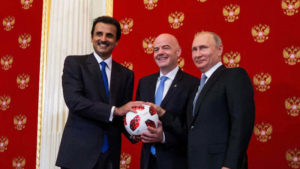 Qatar are set to host the 2022 world cup after a successful one in Russia.
The Russian President, Vladimir Putin, Emir of Qatar Tanim bin Hamad Al Thani and FIFA president Gianni Infantino all took part in the handing over ceremony in Moscow.
The trio all gathered in the Georgievsky Hall of the Grand Kremlin Palace as they used the Ball to symbolise the changing of the Host Nation. Mr Putin took it down from the podium and handed it to the Emir of Qatar.
Russia 2018 came to and end on July 15, 2018 as France thrashed Croatia 4-2 in the final match to become the world champions for the next four years. The next world cup will be held in Qatar from November 21 to December 18, 2022.
Here's what Mr Putin said:
"Today is a ceremonious occasion as Russia passes the FIFA World Cup torch to the state of Qatar. The World Cup is coming to an end in Russia. We are proud of what we've managed to achieve for fans of this wonderful sport.

"The whole country has taken enormous pleasure from interacting with the world of football and the fans who have visited us from all over the planet. I am sure our friends from Qatar will manage to stage the 2022 FIFA World Cup just as exceptionally.

"It goes without saying that we are ready to share the experience we've built up hosting the World Cup with our Qatari friends. We will do everything to ensure football can carry out its amazing and humanitarian role of uniting people, countries and continents."
The FIFA president who also appreciated the efforts of Russia to host the last world cup also said:
"It's a huge honour to be in such a special place, the Kremlin, to celebrate the end of the 2018 World Cup and pass on the torch to the organisers of the 2022 World Cup.

"Football is all about passion, emotions, love, family and unity – we have experienced this fully in Russia and now we're handing it over to Qatar. I am sure that in four years we will see the same energy, the same positive influence in Qatar as we have seen in Russia. I can certainly say we have fallen in love with Russia. And I'm sure that in four years we will all love Qatar. This is already happening. We invite everyone to the 2022 World Cup in Qatar!"
Also, the Emir of Qatar gave his assurance to emulate the good hosting put up by Russia.
"I'd also like to express my gratitude to the members of the Russia 2018 Local Organising Committee, who are helping our colleagues from the Qatar 2022 Organising Committee. We look forward to continuing to work alongside our friends from Russia.

"I would like to thank Mr Gianni Infantino and congratulate him on a successful 2018 FIFA World Cup. We hope to enjoy a fruitful partnership until 2022.

"Staging the 2022 World Cup in our country is a really important event in the history of Qatar. I remember that when our country was awarded the right to host the World Cup, it was a huge celebration for the whole Arabic world. I invite all of our friends to come as guests.

We really hope our national team will repeat the success of Russia and maybe even go further. We will try to at the very least!"