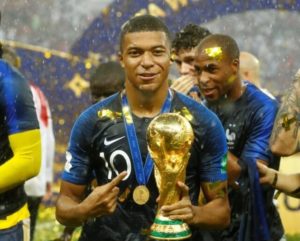 France forward, Kylian Mbappe, 19. who earned global recognition for his outstanding performances at the 2018 world cup in Russia is donating his entire proceeds from the tournamnet to charity.
According to USA Today, Mbappe has decided to donate his earnings from the competition to a charity that gives free sports instruction to hospitalized and disbaled children.
After consulting with his entourage, the france sensation decided his owrld cup proceeds could serve a better purpose going to the charity, according to L'Equipe.
"Kylian, he's a great person," Sebastien Ruffin, general manager of Premiers de Cordee, told Le Parisien. "When his schedule allows it, he intervenes for us with pleasure. He has a very good [relationship] with children, he always finds the right [words] to encourage them. I sometimes even feel that [he] takes more pleasure to play with the kids than the kids themselves."
It was reported by Sports Illustrated that Mbappe earns about E17,000 per game with bonuses. It was also said that Mbappe will receive a E265,000 bonus after France defeated Croatia 4-2 in final.
It was also learned that the PSG striker has been supporting the organization since June 2017.