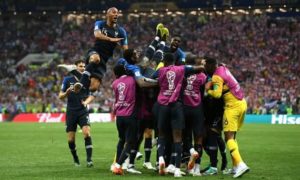 France has made another historic moment as they win the world cup 2018 by beating Croatia 4-2.
The last time France won the world cup was in 1998 but they have shown that they can still be the best in the world again.
The beginning of the match looked intensed for the French team as they seem to be overshadowed by the powerful midfield of Croatia with Luka Modric and Rakitic.
Luckily for them they got the first goal through an own goal converted from Griezmann's free kick.
Croatia didn't relent, they kept on pushing and they eventually got the equaliser with an outside shot from Perisic.
Just before the end of the first half, France was awarded a penalty kick which was scored by Antoine Griezmann making it 2-1.
The second seems to be an easy one for France as Kylian Mbappe also fired in another shot into the net for the third goal and fourth came from Pogba who also recorded his name on the list of scorers.
Croatia looked like they were going to come back with another goal to make it 4-2 but all that seems to be a consolation as the refree blows the final whistle.