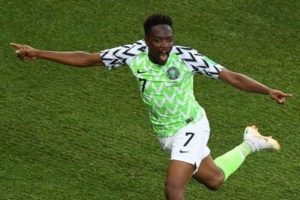 Nigeria have finally got their first win at the world cup in Russia after a 2-0 victory against Iceland.
The Super Eagles had a slow start in the first half of the game with no attempts and shot on target.
However, the second half was a little bit diffrenet as the Nigerian team came all out with full attacking force and thus were able to get the lead from a well taken and powerful shot from Ahmed Musa.
Few minutes later, Ahmed Musa could have scored another but was denied by the pole.
Meanwhile the Super Eagles kept their focus and Ahmed Musa was able to double up with a second goal.
The Iceland on the other hand had an opportunity to score when they were given a penalty kick but failed to utilized their chance.
With this, Nigeria now have three points behind Croatia who leads with six points.
The Super Eagles next match is against Argentina while Croatia will face Iceland in their last match.