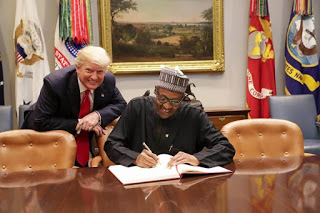 Get ready as the U.S president, Donald Trump is willing to visit Nigeria.

Trump had said on Monday that he would like to visit Nigeria while describing it as an amazing and beautiful country.
Trump made this known after receiving the Nigerian president, Muhammadu Buhari at the state House.
"Well, I would like very much to visit Nigeria. It is an amazing country. In certain ways, I hear from the standpoint of the beauty of a country — there's no country more beautiful," he said.
Trump had received Buhari in his first meeting with a leader from sub-Saharan Africa at the White House. Both of them emphasized on the need to improve trade, technology and human rights records.
Buhari acknowleged Trump's kind words and perception towards Nigeria's beauty but did not mention if he would invite him to Nigeria.
The last time an American visit Nigeria was George Bush who came in 2003 for discussions with Former Nigerian president, Olusegun Obasanjo.