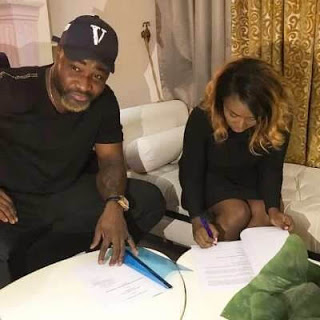 After so many years with the Five star music label, Harrysong decided to move ahead with a futuristic plan with the launch of his record label, Alterplate.

There was a lot of drama between the Five star music and the "Reggae blues" crooner but everything is a thing of the past now with more and more success on the part of the singer even as he gave his fans with the hit single "Under The Duvet".
Now, the future is set with his new record as he signs new artist; Nigeria US-born soul/Afro-pop singer, Lami Philips, making her the first lady of Alterplate.
The singer took to his instagram page to make the announcement, he wrote:
"Welcome to the family=Welcome on board Queen @lamiphillipsworld@alterplatemusic to the world."
Lami Philips is already a household name in the industry with a debut album "Intuition" in 2009 and also a hit single "Know" featuring Mr Incredible, M.I.
Harrysong launched Alterplate records in 2017 after he left Five star music owned by E-money and Kcee.