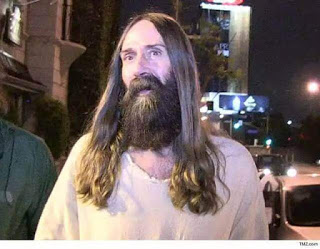 It's so sad that the West Hollywood Jesus, Kevin Short did not make it to the last christmas.

It was reported that he died at the age of 57 on December 13th 2017, shortly after a brief illness while being hospitalized in Los Angeles.
The man who is considered as the most photographed Jesus, is also known as the West Hollywood most iconic and ecentric figures with coutless number of pose with tourists.
The WeHo Jesus is always seen dressing in a white gown with is floating hair resting upon his shoulders and usually carrying a sign which reads "Marry who you love".
See reactions online below:
— Adrian Dev (@iamadriandev) January 4, 2018
— ROME (@romemcelroy) January 4, 2018