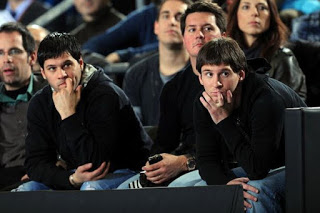 Lionel Messi's brother, Matias could possibly face a eight year jail term for illegal possession of gun.

Matias who was arrested by the police in hospital after they found a gun in a blodd covered boat he claimed he abandoned after the accident.
He was operated over the weekend for the injuries he had including a broken jaw.
Based on reports, Messi's brother could would face a minimum of eight year jail under Argentina law for illegal possession of fire arms.
Sources revealed that Matias has been placed under police guard at the Sanatorio Parque, aprivate hospital in coty of Rosario, Argentina pending investigations.
Matias's lawyer, Ignarcio Carbone had said that the gun found on him could have been planted by cops insisting his client checked himself into hospital after battling with injuries.
However, the state prosecutor, Jose Luis Caterina dismissed any suggestion of foul play, insisting that the police had been transparent, clear and legitimate and also revealed that the gun found on him was ready to be fired as it contains six bullets.
Judge Andres Donnola approved that Barcelona star's brother should be remanded in prison once he is a better health condition to leave hospital until December 23 for further trial.
Recall that Matias Messi was instructed to teach football as part of a probation order after he was being caught with a pistol in his Audi A5 during a stop in October 2015.
Apart from Lionel Messi, Matias messi also have other siblings including: Rodrigo Messi and Maria Sol Messi.