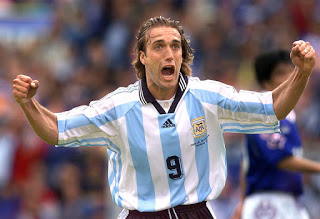 The Argentine football legend, Batistuta has admitted that he was furious with Lionel Messi after he broke his goal scoring record but was at the same time glad that it was done by an "extraterrestial".

Lionel Messi broke Batistuta's record of 54 gola for Argentina at the Copa America Centenario last year and has since surpassed him with 7 goals.
Both of them are still ahead of Sergio Aguero and Hernan Crespo with Aguero scring his 35th at Argentina's 1-0 win against Russia at a friendly match in preparation ffor 2018 world cup.
Batistuta said he was not happy at all after Messi broke his record but he still admire the Barcelona star.
"Did it annoy me that Messi took the record? A little yes, he told Telefe.
However, Batistuta had won two Copa America titles and Confederations cup for Argentina but that could be all what Messi is still missing at the senior level.