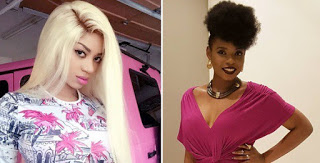 Singer, Dencia shades Yemi Alade on her instgram page.

Dencia had shared clips from Yemi Alade's interview in 2016 where she had mentioned Dencia as part of poeple she thought should quit music.
Dencia ignored the diss while she kept on working on her album. Now her album "Rebirth" is out and she definitely have time for the Yemi Alade.
While tagging Yemi Alade in her post, Dencia wrote: "My album debuted at #3, i don't have to f*ck managers to get to the top".
Dencia alos said she's going to take her time to use Yemi Alade to promote her new album same way Yemi Alade had used her to gain clicks and promotion last year.